See you at the Festival this weekend
View online | Subscribe | Visit us online | Archives
See you at the Festival this weekend
I am all packed up and am on my way to the hotel to set up along with all of the vendors today. I will not be available to answer the phone, but if you need any urgent questions answered, you can send a note to pghknitandcrochet@gmail.com.
Advanced registration is officially closed. You can now pay at the door when you arrive. There are some spaces remaining in some of the classes. We'll have a complete list available for you at the registration tables.
Festival hours, schedule, vendors, teachers, classes and all activities are all posted online. Please refer to PghKnitAndCrochet.com if you have any general questions. Thank you. We officially open the doors at 1 p.m. on Friday, and the market opens at 1:30 p.m. See you there!
With Warm Regards,
Barbara Grossman
---
Vendors hit the highlights in Ravelry thread
Thanks to Kathy Zimmerman, Kathy's Kreations, there's a thread going on our Ravelry group page where vendors are discussing what they are going to be bringing to the Festival. If you're a Ravelry member, we invite you to check out (and even join) the discussion here.  
---
Thank you, Karabella Yarns
Karabella Yarns has just joined in on the Festival fun, sending yarns for the event. Their latest garments will also be on display at our Revolving Trunk Show, and you can find their yarns at several of the vendor booths.
---
Festival totes and tees for sale
The $5 tote bags are green for St. Patty's Day. We also have T-shirts available with such slogans as "It's too hot to wear my sweater," "I heart to knit" and "I heart to crochet." Check out all the merchandise at the registration tables.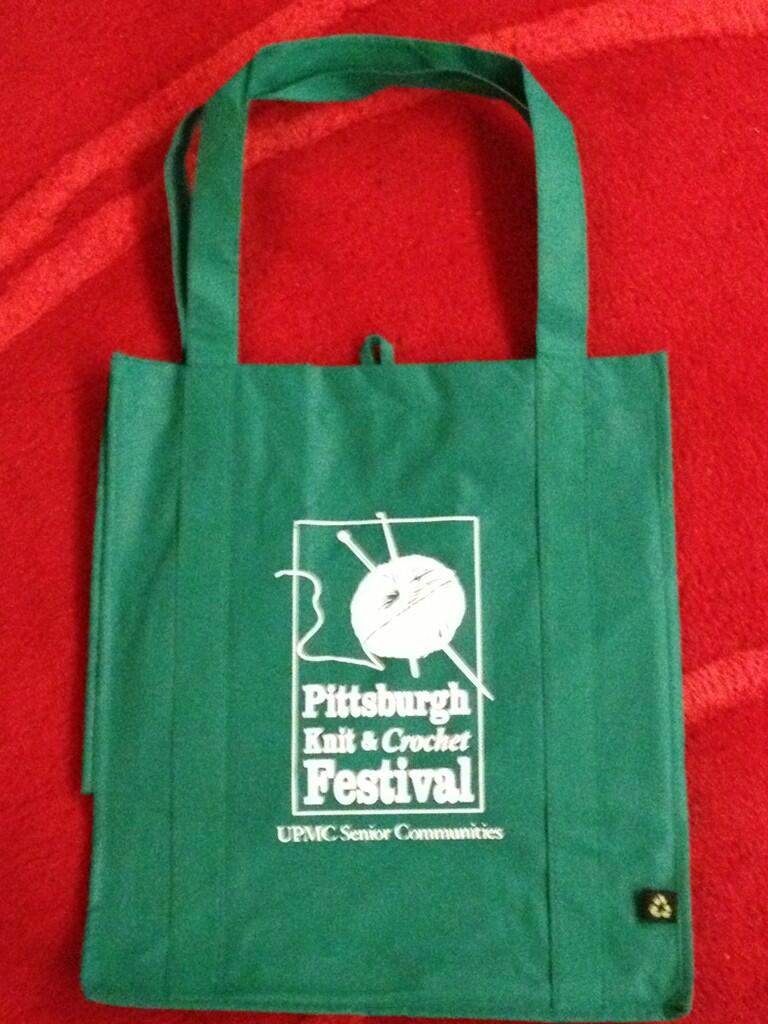 ---
Who's best in the 'Burgh? We are!
We've been named a Best Bet by Pittsburgh magazine! 
---
Happy National Crochet Month
How nice of the Crochet Guild of America to coincide National Crochet Month with our Festival (OK, OK, so they've been doing it in March for a little longer than we have been).
We'll be celebrating in part with the wonderful Stacey Trock's adorable duck class on Sunday afternoon. Wouldn't this crocheted cutie be the perfect addition to your Easter basket? There are still some spots available — along with just a few other classes that may still have space when you arrive for the Festival. Just make an inquiry at the registration tables! 
---
---
FYI: Festival & Yarn Information
Info about submitting books or products for review is here.
Info about Festival teaching, sponsorship or exhibiting is here.
Info about Festival attendance is here.
Info about our Knittreat is here.
Become our fan on these social media sites:
We are a proud member of
---
Festival Update is published by
P.O. Box 7706, Pittsburgh, PA 15215 / (412) 963-7030
We do not share our mailing list with any third party.
© 2013 Pittsburgh Knit & Crochet. All rights reserved. Reproduction in whole or in part is prohibited without written permission.
eNews designed by Gooch & Gooch, LLC